Thank's
3/20/2005
So far I got a new hobby i dunno why i like to take picture..where ever i go i bring my camera, if the idea come up so i turn it on and shoot the object. Even during workin' I really enjoy it. I got a lot of pictures of my friends, and of course my self, I never think it before if it's so amazing and eternalize the important things.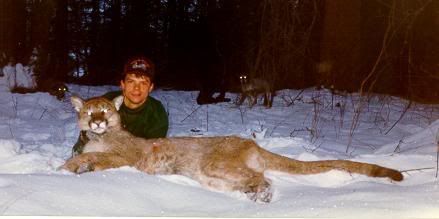 Right here I would like to thank's to Craig, Catherine, Patrick and Fam, and all of you guys cause you gave me chance to took our picture, especially for you Craig LOL you gave me invitation to go for hunting..ups this's Killing me man, we can't hold the gun you know what we're dreaming to hold the gal LOL..and maybe we'll kill our self gun is a monster for us Lol, So you're a hunter Craig you never told me before..winter is over Craig no more deer..have you ever hunted the deer in Michigan ..??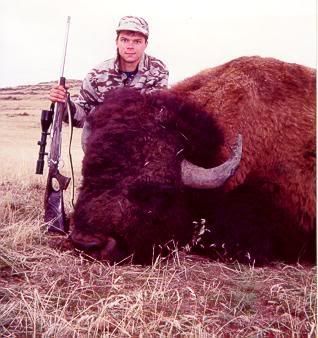 Craig with the bison

Thank's for you'r picture Craig I'm waiting the others...ops you made me suprise you killed the Bison..oh my God...so big the bison is so big you shot in Monatana coming out of Yellowstone Park. He weighed 2,400 pounds and you killed him from 358 yards away with your .338 Winchester Magnum rifle. And you got an extremely huge Mountain Lion that you shot up in British Columbia, Canada. You hunted him with hounds *shake my head you make us suprise* and what did you do with the animal..Lol like the bear on the 2nd floor at the Restaurant..??? Me and Martin are very very glad to get the invitation and we would thank's to visit us...you're a kewl and warm also nice person man..we like you hopely we'll meet soon there and we'll be able to get some drinks together..c ya Craig..say hallo also to your families and thank's Guys... Hmm..and I got this from someone..I though this's Nice so I posted it what do you think..?? When we meet the right person to love when we're at the right place at the right time, that's chance. When you meet someone you're attracted to, that's not a choice. That's chance. Being caught up in a moment (and there's a lot of couples who get together because of this) is not a choice. That's also a chance. The difference is what happens afterwards. When will you take that infatuation, that crush, that mind-blowing attraction to the next level? That's when all sanity goes back, you sit down and contemplate whether you want to make this into a concrete relationship or just a fling. If you decide to love a person, even with his or her faults, that's not a chance. That's choice. When you choose to be with a person, no matter what, that's choice. Even if you know there are many people out there who are more attractive, smarter, and richer than your mate, and yet, you decide to love your mate just the same, that's choice. Infatuation, crushes, attraction comes to us by chance. But true love that lasts is truly a choice. A choice that we make. Regarding soulmates, there's a beautiful movie quote that I believe is so true about this: " Fate brings you together, but it's still up to you to make it happen." I do believe that soulmates do exist. That there is truly someone made for you. But it's still up to you to make the choice if you're going to do something about it or not. We may meet our soulmates by chance, but loving and staying with our soulmate is still a choice we have to make.
posted by Admin @ 4:17 PM